Shirt Sponsor signs for 2018 CELEB FC Charity Football season
Celeb FC are proud to announce a fabulous new, charity conscious company as our new Kit Sponsor for the 2018 Charity Football Season.
The announcement triggers the countdown to our imminent, full reveal of the season's new kit which will carry the Good2Bid logo on the front of the shirt & shorts.
Good2Bid has recently been founded and will, like the new Celeb FC branded kit, be very soon announcing its own launch to the world..
Celeb FC Founder Karin, has met a number of times with the Good2Bid Founder and with their key focus on enhancing & supporting the charity sector, believes this is a perfect match for us.
Karin – Celeb FC Founder – "I believe that together we have an exciting future and we now can go forward pleased to be associated with a company that will be leading the way in their sector. We look forward to working with Good2Bid during the 2018.""
Jason Burrill – Celeb FC Goalie – "I for one am are pleased to see such a valuable friendship formed"
We are both most definitely considering a more long-term strategic partnership which will help Celeb FC build stronger links and develop both the Good2Bid brand and the Celeb FC ethos towards raising funds for small charities, along with ensuring the "FUN" is kept in "FUNdraising"!
Also on a lighter note – The colours are great for us, as we have always wanted to keep our kit light & "family friendly" – as are our events..
(Mostly – as anyone who follows us knows, we also like to win)!
Here's a sneaky peek of the new team-wear –
As you all know by now, Celeb FC are totally reliant on sponsorship as we are completely non-profit / voluntary & take no PA fee's to appear.
Sponsorship & Small businesses that support us, mean we can support the smaller charities and individuals who need help at the sharp pointy end of a crisis, who may not otherwise have been able to get any help, as costs would be prohibitive.
We have some fabulous people around us who completely understand what we do & why – Along with the Voluntary Teammates – Sports People & Celebrities , We have some fantastic Sponsors who give not always money, but time and services – such as Kingies Bouncy Castles, Kingsleys Red Bus Transport, Performers, Taylored Events and much more.
Without these we would not be able to do what we do.
Sponsorship of events and purchases from our Amazon Wish-list is crucial to our survival.
Without Good2Bid and other such great sponsors, we would not have been able to support the 40+ charities and individuals we have done over the last 4½ years – Thank you all so much.
Helping Celeb FC starts from just 99p for small items on our Wishlist….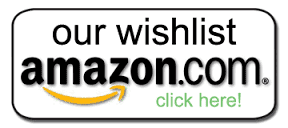 Please contact info@CelebFC.co.uk if you may be able to assist us in any way, we have Sponsorship packages available from just £250 for the year.
Extra special thanks to Rocoja Limited for their continued free Media & PR support
Please join us on our Social Media – Including our VERIFIED Facebook Page 
Please join Celeb FC on our Social Media – Click links below