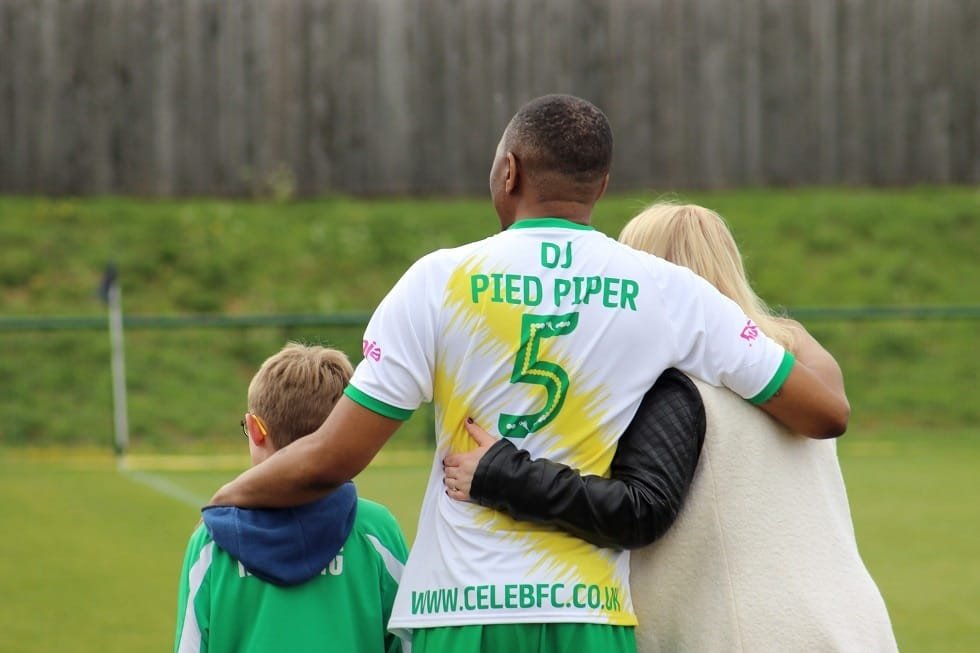 Its been almost a week since the amazing start to our Charity Football season, with a hard fought match at Creasey Park FC in Dunstable.
Celeb FC Founder Karin has had an busy week – gathering together the images taken by some amazing people – Thank you RD Images, Taylored Events, Neil Harrison, Iain Robertson &  Rocoja Limited – You can see some below – But the full Album is available HERE
This event was created by Daniel of Green Machine FC to support their fundraising for Macmillan Cancer Support & Celeb FC were very happy to be a part of it.
With the support of Genting Casino in Luton, who sponsored the match, it was an amazing day
Daniel said "It was a great game, fought with great spirit and ended with a fair result. It was what Charity Football is all about, bringing friends and family together for a great cause close to my heart. Thank you to everyone at Celeb FC and the Green Machine lads who helped make it all happen and we are looking forward to a rematch"
For Celeb FC it was a fabulous start to the season, who came out as a team that hadn't played football for over 8 months, but who pulled it out of the bag with some new teammates & some formation changes; fielding a strong, confident, stable side..
Which resulted in
2 Goals from Chris "Jenno" Jennings
1 Goal from Codi Martin (set up perfectly by Jenno)
An unfortunate own goal from the Green Machine Goalie
& then with just 8 minutes to go
Jigga scored a blinding Penalty
Well done all – Including the Green Machine Goalscorers
Callum Whadcoat
Rhys Shekle
Ben Holdsworth X 2
Alessio Bonetti
The Charity Football match ended with a 5-5 draw.
Below is the Video Review of the match.
Special Thanks go to everyone who came along
Celeb FC Teammates on the day 
| | | |
| --- | --- | --- |
| Name | Profession | Number |
| Andi Walker | Masterchef | 7 |
| Codi Martin | Singer | 11 |
| Ashley Buckenham | Celebrity Ghost Hunt | 12 |
| Chris Jennings | Semi-Pro | 19 |
| Connor Griffiths | Semi-Pro | 22 |
| Dean McAteer  (C) | Semi-Pro | 25 |
| DJ Pied Piper | UK Garage Music  Legend | 5 |
| J_Millz | Urban Influencer | 8 |
| Jason Burrill | BBUK | 1 |
| MC KIE  (C) | UK Garage Music  Legend | 4 |
| Paul Shelock  (Jigga) | Semi-Pro | 6 |
| Rob Lamarr (G) | Host Jackpot 247 ITV | 55 |
| Simeon Riley | DJ | 18 |
***************************************************************************************************
Celeb FC
***********************************************************************************
Please join Celeb FC on our Social Media – Including our VERIFIED Facebook Page 
Click links below