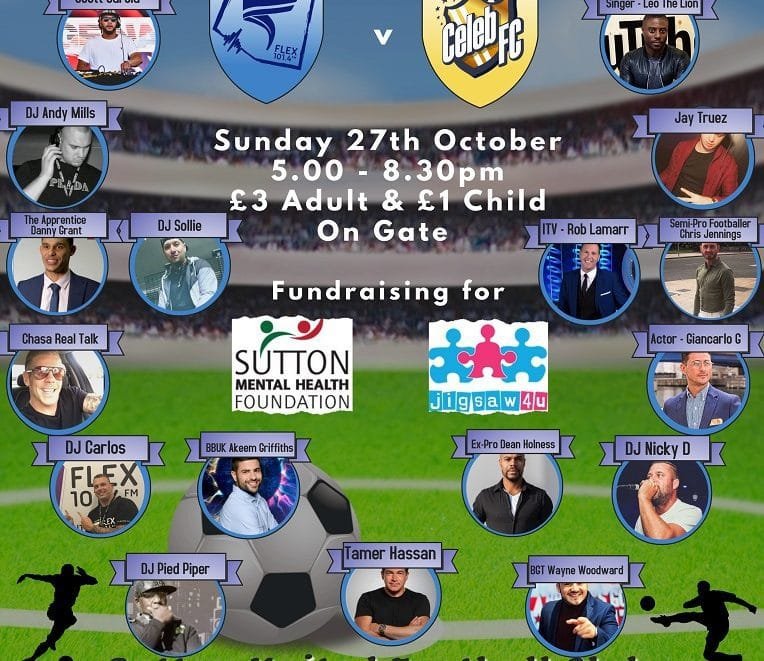 SUTTON IN SURREY TO PLAY HOST TO STARS OF THE UK MUSIC SCENE, REALITY TV & SPORT, AS THEY TAKE PART IN HUGE FUNDRAISING FOOTBALL MATCH FOR TWO LOCAL CHARITIES
On Sunday October 27th from 5pm at Sutton United Football Club, you will be able to see the DJ's of Local Radio station Flex FM take on the Teammates of Celeb FC in a unique Fundraising football clash.
Always looking to give back to the Surrey community that has supported both entities. Flex FM & Celeb FC have come together to raise funds for their nominated charities Jigsaw4U & Sutton Mental Health Foundation, two amazing local charities who support families & communities within the local area.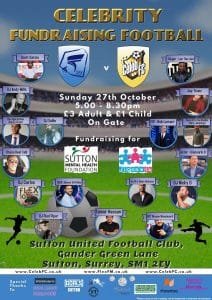 People you can expect to see on the day include:
UK Garage Music legends – DJ Pied Piper, DJ Scott Garcia,
Host of ITV's Jackpot247 & Herts Radio – Rob Lamarr
The Apprentice 2017 – Danny Grant 
Flex FM DJ's – DJ Carlos, DJ Andy Mills, DJ Sollie,
BGT Runner-up – Wayne Woodward
Ex-Professional Footballer – Dean Holness
Singer – Leo "The Lion" Ihenacho
3 of a Kind (BabyCakes) – MC Divine
Semi-Pro Footballers – Paul "Jigga" Shelock, Dean "Macca" McAteer & Chris "Jenno" Jennings"
Actor – Tamer Hassan
With some special surprise guests expected also.
The late afternoon match will be fun-filled with the 2 teams vying to win the coveted "Community Cup".
Ticket prices are:
Adults – £3
Children – £1
Available on the gate from 5pm.
The event will take place at:
Sutton United FC
Borough Sports Ground
Gander Green Lane
Sutton
SM1 2EY
Gates open at 5.00pm, with kick off at 5.30pm.
DJ Carlos of Flex FM said "The Flex FM team have been friends of Celeb FC for many years, so of course we jumped at the chance to support two great charities whilst being able to play football together. Although don't be confused, we do of course want to take home the Winners' Cup & will be all doing our level best to end the Celeb FC unbeaten streak! ".
Karin Flower, Founder of Celeb FC said, "We are utterly delighted to have been instrumental in creating this event. Of course, everything that we do is important, however when so many people come together to arrange an event such as this, it is truly heart-warming. Celeb FC owe a great deal of thanks to so many people connected to this event – the Celebs, musicians & officials that support us voluntarily, the venue – Sutton United FC, the local press and local communities – but it all really comes down to ticket sales on the gate. So please come along".
Links to the Charity Fundraising Football event are HERE & there is a VIP Ticket Only after party also (strict on Numbers) – Link to buy tickets HERE
If you would like to know more about Celeb FC, please email info@CelebFC.co.uk
***************************************************************************************************
Celeb FC
Founded in 2013
Contributed to raising circa £250,000 since 2013
Operates as a not-for-profit, micro-business, supporting small charities & individuals in their fundraising efforts.
All Celeb FC operating costs are met by sponsors – for 2019 these include Chandlers Building Supplies, TayloredEvents, Nuts about Balloons , Wimblederm, Pavlova & Cream, Paul Jones Events, RRPR Management 
Our Kit & Ball suppliers are  1v1 Footballs & Classic Sportwear Wales.
All Celeb FC teammates & staff are volunteers.
Celeb FC are sponsoring the lovely Abbie (Miss Croydon 2018-19) journey.
Media, PR & Website all donated by www.Rocoja.co.uk
***********************************************************************************
Please join Celeb FC on our Social Media – Including our VERIFIED Facebook Page 
Click links below