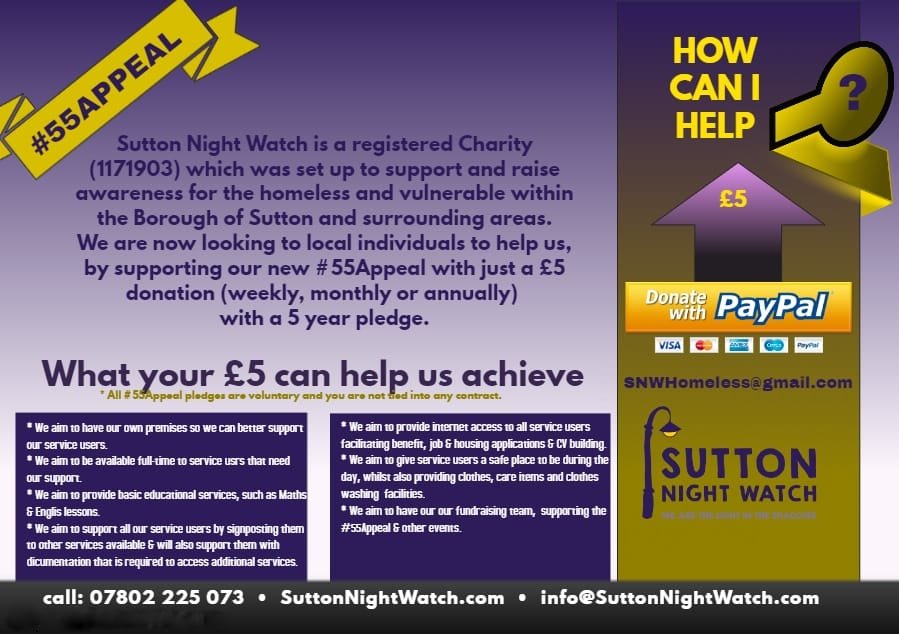 CELEB FC ARE SUPPORTING AN AMAZING SUTTON BASED CHARITY WHO ARE AIMING TO FIGHT HOMELESSNESS IN THE BOROUGH & SURROUNDS WITH THEIR EXCITING NEW #55APPEAL – LAUNCHING THIS WINTER.
Looking to get the residents & businesses in Sutton & the surrounding areas involved via a small pledge, the team behind "Sutton Night Watch" have come up with an amazing 5-year plan to create a safe, secure & positive environment, not only for Sutton's homeless but hopefully for other boroughs too.
Sutton Night Watch's vision
Sutton Night Watch are aiming to have a premises within the borough of Sutton, where everyone who needs it has a place to access for a hot meal & basic comforts such as personal care, haircuts, clothes washing & replacements along with other vital help they need such as accessing online portals for housing & job applications. We will also offer basic education in English & Maths.
This is what we want to be able to offer the homeless in the borough, enabling the issue to be tackled in a positive, caring way.
Sutton Night Watch's strategy
There are many reasons why someone may become homeless & it is an issue that affects families, individuals & communities.
Everyone should have a place to go to for support if they find themselves in this unfortunate situation. We want to work together with the people & businesses of the borough of Sutton to achieve positive futures for people who are homeless or vulnerably housed.
To achieve this ambition, we need to be able to:
1. Offer practical assistance (food, clothes etc)
2. Ensure if a person does become homeless, it's for the shortest time possible by offering access to the bodies that assist with housing.
3. Provide those with complex problems the opportunity to interact with specialist services by signposting our users to the correct services.
4. Support people to realise their potential & avoid becoming homeless again by providing basic education to those who need it, along with assisting them with applications for housing / jobs.
Our strategy describes the approach we will take to assist the homeless of Sutton.
Lisa Brown – Director of Sutton Night Watch said "When Sutton Night Watch was first created, our goal was to ensure no one slept on the streets of our borough on an empty stomach. We have absolutely done our best to help as many as we could by giving out hot drinks, food & blankets. However, we have come to realise we are in a great position to be able to think bigger & create a hugely positive change in how much more we can do to not only help our existing service users, but to help tackle homelessness in its entirety. The #55Appeal will not only benefit the service users but will bring in the local businesses & community as they will be the ones creating this amazing change".

Karin Flower, Founder of Celeb FC said, "I am very proud to be supporting this initiative & have set up our payment plan. Although Celeb FC are not based in Sutton, the borough is very close to my heart personally, as it has really welcomed Celeb FC & what we do for local charities. Sutton Night Watch is one of the most amazing small charities we have come across.. They think outside the box, looking to help as many as possible. We are proud to wholeheartedly support the #55Appeal.
To find out more about the Sutton Night Watch #55Appeal, please contact info@SuttonNightWatch.com or search on all social media for #55Appeal
www.SuttonNightWatch.com
**********************************************************************************************
All Media, PR & Website management by www.Rocoja.co.uk
Celeb FC are supported by Chandlers Building Supplies, Taylored Events, It's Nuts About Balloons, British Red Bus.com, 1v1 & Classic SportswearIf you would like to know more about Celeb FC, please email info@CelebFC.co.uk or visit www.celebfc.co.uk
**********************************************************************************************
Celeb FC
***********************************************************************************
Please join Celeb FC on our Social Media – Including our VERIFIED Facebook Page 
Click links below