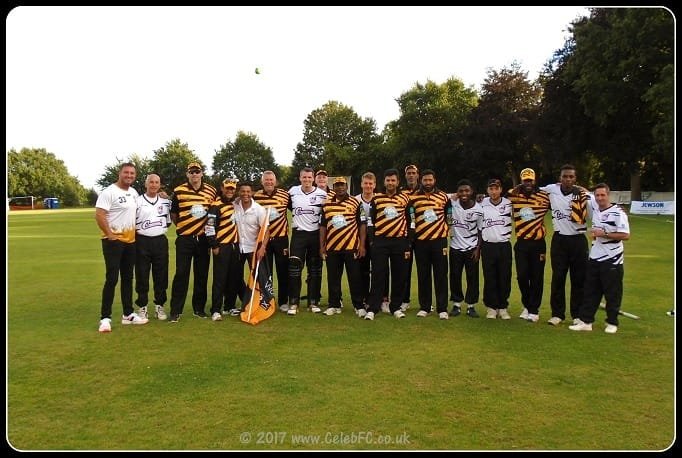 On Sunday 30th of July, Celeb FC did something we had never done before – we fielded a Cricket Team..
Not only that, we did it against a very established, very well known & extremely talented team – Lashings All Stars.. BUT this event as always,was for Charity & Teammum & Chris from Jewsons believed that a Jewson VI with Celeb FC involved could take on the mighty  Lashings All Stars!
The  Jewsons V1 was created from some Celeb FC players along with sports personalities – Both were chock full of international cricketing legends and stars..
Household names such as Steve Gritt,Gordon Greenidge, John Emburey Yasir Arafat (cricketer, born 1982) and well know TV sports caster & ex Professional footballer John Salako (Who also stood in for Celeb FC / Jewson VI as team captain) along with Jason Burrill (Big Brother Winner 2016), Derry Mensah (X Factor) & Michael Kurn (Sports Reporter / PL Fanzone Presenter).
There was also live music to follow the cricket from acts from #CelebFC including Teammate Derry Luca Mensah ( The Risk / The X Factor) & Lucy Texeira (Two Shoes / X Factor ) as Beyonce – The Irreplaceable Tribute and headlining was the Wonderful Sam Bailey – X FACTOR WINNER! 
Other attractions included a fun fair, inflatables, balloons, face painting, raffle, catering, beer tent, and much more.
The weather was beautiful – as was the Sweet win for Celeb FC / Jewsons VI…
Sorry Lashings.
The day was to raise funds and awareness for The Aspinall Foundation & Barnardos
Celeb FC would like to say a BIG thank you to Miles Thomas & Tracey Thomas from Phoenix FM in Essex for supporting the event with their media Coverage & also because Miles stepped in to play.
Also a HUGE thank you to the Mercure Hotel – Tonbridge Wells where the Celeb FC team stayed after the Match. Lovely hotel, Great facilities & really friendly staff..
Please join Celeb FC on our Social Media – Click links below