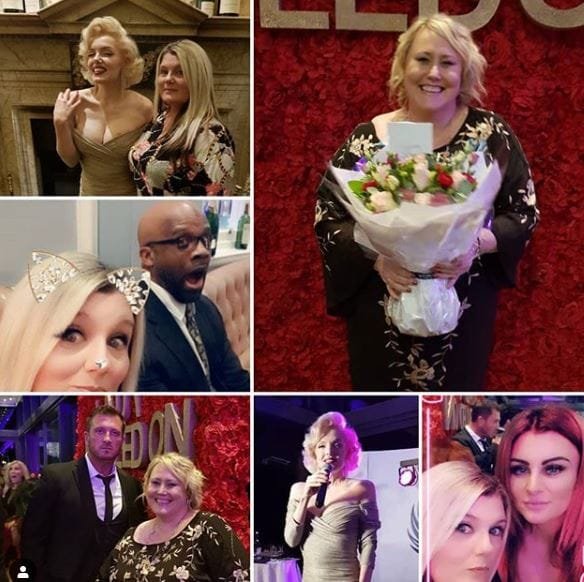 Celeb FC were set up in 2013 as Celebrity Fundraising Football Team, who with the help of some extremely philanthropic & generous with their time celebrities, wanted to support a few small charities each year with their fundraising efforts.
That dream has snowballed & in the last 5½ years Celeb FC have become a major player not only in the Celebrity Charity Football world, but in the world of fundraising altogether.
Celeb FC do not charge appearance fees & we bring a wealth of very professional support staff (events coordinators, media & PR guru's, inflatables, balloon decorators, DJ's & singers etc etc) with us wherever we go / whatever we do. So not only do we play in fundraising football matches, we attend gala's, charity balls, awards nights & community days & many more events. As long as the beneficiary is a small charity/community group/someone in need, who otherwise would not have had access to the funding stream a celebrity name can bring – we will endeavour to help.
However – we are not funded.. Everyone is a volunteer & we rely heavily on the goodwill of our support network & on sponsorships each year from small businesses to allow us to buy our Kit, Footballs, medical kits & to pay for travel, plus to pay for the media & PR that attracts celebrities to us & supporters to the events we are involved in.
This year we were hurtling towards the end of January with a sponsorship still not secured (Footballs) & that is very worrying as our fundraising calendar starts in April.
Footballs are used at our events, given as gifts to grassroots clubs or sadly lost during matches; also some are signed by celebs & used as auction items for small charities to use as an additional fundraising stream. We usually go through 40- 50 balls per season.
THEN – along came a great friend to Celeb FC – Lady Wimbledon with a wonderful idea.
In celebration of the support Celeb FC have shown for the local Wimbledon (& wider south west London & north Surrey) community;  Lady Wimbledon decided to throw an elaborate party at Hotel Du Vin Wimbledon on Thursday Feb 7th.
PRESTO – an indulgent evening of Roses, Ruffles and Romance occurred….
Beautiful NEOM candles were adorning the Orangerie at the magnificent Cannizaro House Hotel in Wimbledon, with Lanson Champagne flowing plentifully, whilst stunningly beautiful canapés were being served throughout the night & they tasted even better than they looked!
Celeb FC Founder Karin attended with a number of the Celeb FC Family in tow.
Including:-
Vaughn Joseph (Actor) & Founder of V3TV  – An online Network, which is home to user uploaded music videos, stand up comedy, podcasts & more.
Jason Burrill (Actor) & Winner of Big Brother 2016 – Also Celeb FC Football team Manager.
Nikki Taylor (Sponsor) & Owner of Taylored Events / Co-Founder of The Event Squad 
Ashley Buckenham Star of Celebrity Ghost Hunt with Rylan Clark-Neal
Andy Fulker & Lisa Brown – Founders of The Sutton Night Watch charity, supporting the homeless of Sutton & the surrounding boroughs,
Councillor Jean Crossby – Former Mayor of Sutton & member of the SHMACF committee
MC Melody – Masters of The Ceremonies
MC Kie – UK Gargae music legend & Celeb FC team Captain
Martin – From "OTM"
& Lastly
DJ LexBeatz – Gifted DJ who also performed at the end of the evening – getting everyone dancing to huge hits.
We spent a fabulous evening with some wonderful people, including the worlds premier Marilyn Monroe lookalike – Suzie Kennedy , Founder of Darling magazine – Karine Torr, Fabulous stylist – Charlotte Broadbent, Talented photographer – Charlie Burgio, Amazing videographer (& producer) – Mr Brown & many many more beautiful people.
Entertainment was provided by the extremely talented Flat Pack (& yes Celeb FC Founder Karin has asked if they can play football) #WatchThisSpace !!!
The Raffle was held to raise funds to buy our 2019 footballs & we will keep you posted on what the amount raised was…It was a spectacular affair, so we are certain we will have more than enough to be able to give many many groups some to use, along with lots of signed ones for groups to auction off!
Thank you all so much for this spectacular event!
Karin Flower, founder of Celeb FC said "Celeb FC are a group of celebrities, sportspeople and volunteers, who attend events without charge to boost the fundraising capability of the smaller UK charities, non-profits & community groups. We do this by ensuring those who may not be able to afford PR and venue costs or celebrity appearance fees, still have access to these fundraising streams.  Lady Wimbledon has supported Celeb FC tirelessly & this event was truly humbling"..
***********************************************************************************
Celeb FC
***********************************************************************************
Please join Celeb FC on our Social Media – Including our VERIFIED Facebook Page 
Click links below