The Sutton Night Watch Charity Releases Christmas Song to Raise Money for Homeless in Sutton & Surrounding area's.
Mr Celtic Reggae & Lisa Brown have written & recorded, free of charge, a new Christmas song on behalf of the Sutton Night Watch Homeless Charity
The song is already available on iTunes & will be available on Spotify, Amazon & Google play within the next few days.
Mr Celtic Reggae & Lisa Brown have donated their services, free of charge to The Sutton Night Watch Homeless Charity, based in Sutton, Surrey.
They have written and performed a new Christmas single titled, "Sing Happy Christmas" which is available for download immediately from iTunes & shortly to be available from Amazon & Spotify.
The single is being released in order to raise funds for the charity that normally only relies on donations from businesses and individuals.
Amazingly 100% of all profits generated from the single will be donated directly to The Sutton Night Watch Homeless Charity.
The single release comes just as Sutton Night Watch are planning their annual trip into Central London to present Shoe-boxes filled with essential items to the Homeless on the streets of the capital. All items have been generously donated by local people, businesses & community groups.
This year Sutton Night Watch are joined by voluntary community group – Celeb FC, who are bringing along teammates Ashley Buckenham from Celebrity Ghost Hunt, Semi-Pro Footballer Matty Males & singer Sarah Vaughan.
The Shoebox run will be from 6pm – approx. 1am on Friday Dec 7th & will be staffed by volunteers, travelling on a vintage London Routemaster Bus – again donated to the event for the 3rd year running by www.BritishRedBus.com. You can follow this initiative on social media by simply typing in the hashtag #SNWSHOEBOX to any platform (Facebook, Instagram, Twitter etc).
Items still needed include – Pop-Up Tents, Mens & Ladies Underwear, Hats, Joggers & Gloves & of course any donations will be very gratefully received (all donations please contact SuttonNightWatch@Gmail.com direct).
There is also an AMAZON wish-list, where YOU can really help to make a difference – Please visit SUTTON NIGHT WATCH AMAZON WISH LIST
Spokesperson for The Sutton Night Watch Charity, Andy Fulker said, "We are over the moon to have such talent recording a song to raise money on our behalf, we think it is a great song that is really meaningful & the money raised will really help us as we support those who are living on the streets. This is especially poignant at Christmas."
The song, written by Mr Celtic Reggae & Lisa Brown is sung by Mr Celtic Reggae & Eliza Hemphill with additional backing by the Sutton Night Watch team & local theatre School "Theatre Train".
The song has already caused a stir of interest generated from both Celeb FC & our celebrity teammates followers & Sutton Night Watch's supporters, who together number over 100,000 on Facebook, along with over 300,000 on Twitter!
The song can be heard now on the Sutton Night Watch & Celeb FC websites:  www.suttonnightwatch.com &  by clicking below:
(BUT please  please purchase online to support Sutton Night Watch by clicking HERE ).
Co-writer Lisa Brown has stated "For me, Sutton Night Watch, is about providing support & raising awareness for the homeless people within the London Borough of Sutton & surrounding areas. The Charity is actively promoting the single in order to support as many homeless people as we possibly can.
The single is relea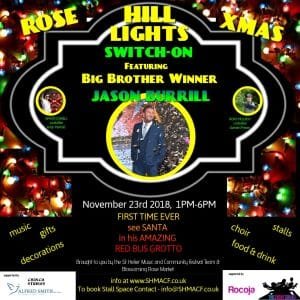 sed online over the coming weeks & is hoped to be a big success with its mixture of melody and meaningful lyrics. The song will also be showcased on Friday November 23rd at the ROSE HILL Christmas Lights Switch on & Market at approx 5.30pm.
Please come along & meet the people behind this amazing Charity & the Christmas Single.
Sutton Night Watch spokesperson Andy Fulker summed it up; "We believe there is always hope & that is what our charity aims to bring to the people that we support.  The extra money raised through this amazing single will help us to support even more people & raise awareness of what is often an unseen issue. The single is available in time for Christmas as not only is it a great song but it's for a great cause & we encourage everyone to go to online to purchase their copy"
Karin Flower, founder of Celeb FC has added "Celeb FC are a group of celebrities, who all play football & attend events without charge to raise funds & awareness for the smaller UK charities & Individuals who otherwise may not be able to afford PR & appearance fees. I am so happy we are able to be a part of this amazing charity movement. What Sutton Night Watch do, not only at Christmas but throughout the year, all as volunteers, all thanks to public donations, is absolutely amazing.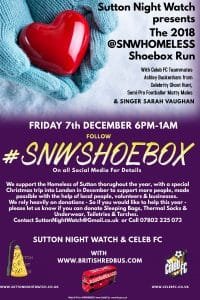 We will be supporting their Shoeboxes for Homeless Christmas initiative on Friday Dec 7th by joining their trip into London on the vintage Routemaster Bus, whilst bringing along some of the Celeb FC teammates & singer Sarah Vaughan.
(Search #SNWSHOEBOX on social media for details).
Click the poster to be taken to the event page on Facebook.
If you would like to know more about Celeb FC, please email info@CelebFC.co.uk  or visit