As you may know, The Celeb FC founder has been writing (for months) to MP's and Councillors in a number of the outer London Boroughs we work in (Merton and Sutton mainly), detailing the devastating impact ULEZ will have on Volunteers, Community groups and Charities if brought in in August 2023.
She has tried to convey the worry she has regarding the imminent loss of some of the most valuable people we have in this country. Volunteers who live and work in the outer London suburbs.
A meeting recently took place between our founder and Member of Parliament for Sutton – Elliot Colburn who has been quite vocal about his disdain for the the blanket ULEZ implementation across his borough, which is a leafy suburb, where many residents (quite rightly, we think) believe they are in Surrey, not even London!
They spoke at length about the impact, which hasn't even been considered by Mayor Khan, of the ULEZ expansion on the numerous small businesses, community groups, charities and non-profits who provide services at heavily discounted rates (sometimes without charge) because they love what they do to support their communities within our suburbs.
Many are supporting families and groups that simply do not qualify for government support or they are picking up the short-fall when the support simply isn't there!  No one in power has considered how this blanket implementation of punitive & isolating measures will impact  the commutes to and from places to fulfil caring, support, roles (and more) nor the actual vehicles used to transport the volunteers / animals / equipment etc used to provide vital outreach and support services.
Thankfully The MP for Sutton was very open to this meeting and listened intently to the stories we took to him. He took on board the devastating impact  on generous, amazing groups, including those, who are after August not able to provide therapy to autistic children / care homes in the borough – due to the impending change that means their vehicles are not allowed to travel into this leafy suburb.
Our founder also re-iterated the following
Pensioner volunteers contribute over £48 Billion a year to the UK economy according to the centre for economic and business research.
The voluntary sector has a workforce which is almost a million strong (950,000 workers) at the last estimate – about two-thirds the size of the NHS workforce – and has grown by more than a quarter (27%) in the past decade.
Out of a total of 165,758 voluntary organisations in UK, the majority (80%) are small.
1 in 3 women in the UK volunteers at least once a year. Women make up two-thirds of the voluntary sector workforce.
People recognised as having a disability / registered disabled are just as likely as non-disabled people to formally volunteer.
Look at those figures & then look again at who the  ULEZ impacts ( many older people have older cars – it just tracks)…  Many pensioners, women and those with disabilities live and volunteer in our suburbs – These will be the affected / isolated / impacted groups!….
The saddest part is – The London Mayor knows the expansion is not warranted & NOT wanted..
He deliberately failed to take into consideration the replies to the ULEZ expansion consultation, where a  resounding 28,120 (twenty-eight thousand, one hundred and twenty) or 68% said NO.
He has also failed to take into consideration, that Greater London has air quality that is legally within UK Government law as confirmed by DEFRA.
Please use the hashtag #STOPULEZ on every post about this tyrannical, short-sighted tax on the residents of outer London suburbs without the necessary public transport infrastructure, the aforethought for the impact on the voluntary sector and also without the actual pollution that is being touted as the reasoning for this tax.
Also – PLEASE keep signing this petition – We must be heard or this will be an absolute disaster…
https://www.change.org/p/sadiq-khan-stop-mayor-khan-s-ulez-zone-extension-to-the-north-south-circular-roads-in-london
Thank you to the only MP that has listened to this very forgotten / ignored part of the community that will be negatively impacted by this unnecessary, punitive ULEZ expansion – We are watching what happens now intently!
PS – Our founder will see some of you on April 15th in London no doubt!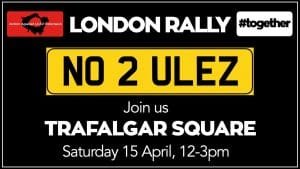 Speakers already confirmed include
& more!
See you there!
#No2ULEZ #STOPULEZ