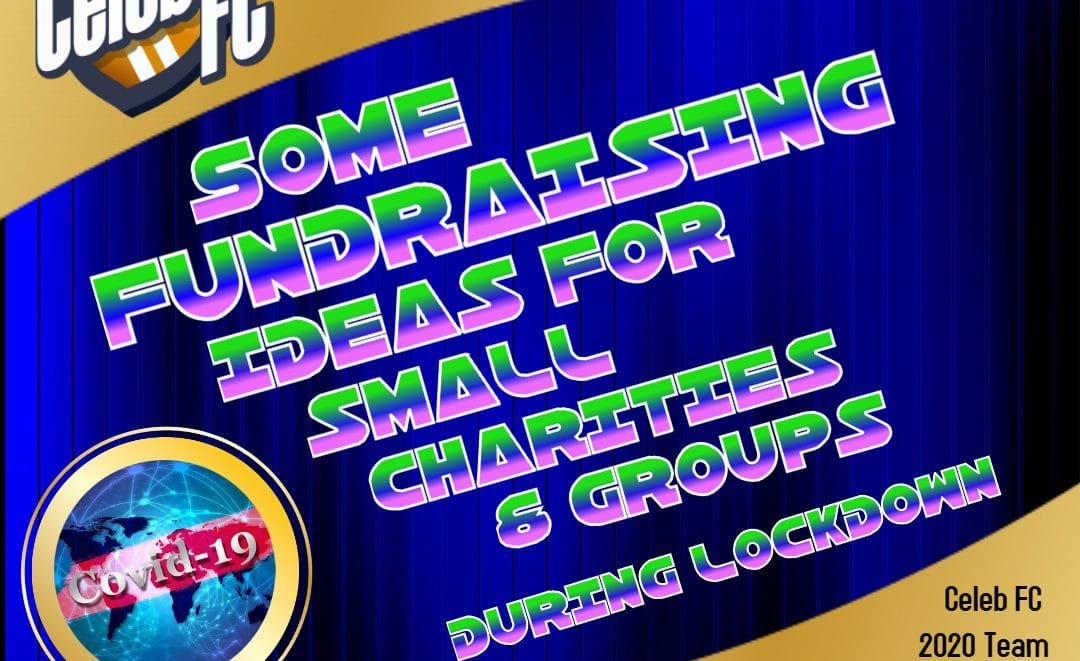 Fundraising events across the country have been cancelled over the last few months, due to the coronavirus pandemic and subsequent lockdown.
It's estimated that the the UK charity sector as a whole will lose at least £4 billion in income as a result of these measures. This impacts all kinds of groups from large, charities with huge staffing budgets & big marketing & fundraising departments to the small non-profit groups (some of whom who are not necessarily registered as charities), who are run by kind-hearted individuals.
Usual fundraising streams such as street stalls, fetes at school, bag-packing within supermarkets and even challenge events such as running & charity football matches have been completely depleted.
So it is now more important than ever to try and fundraise in any way that we can.
With this in mind, Celeb FC founder Karin has created this post to give the smaller charities & community groups out there some ideas on how they can fundraise during these strange & unique times.
RECYCLE & DONATE
Being stuck at home can really make you realise just how much clutter you've accumulated over the years.
Take a look at your (rarely used) books, clothes, games, CDs, toys etc. These may be exactly what someone else is looking for!
Sell your items on eBay, Depop or Facebook Marketplace & donate the proceeds to your favourite charity / cause!
CREATE A "LOCKDOWN" JAR
Pick a work related to "Lockdown-Life"- such as "Coronavirus" or "Isolation" & agree with the rest of your family / friends / volunteers that you will pop a £1 into the jar if you catch yourself saying it.
Have a "count-up" Zoom/Whatsap meeting weekly & show off how Good or Bad you have been that week to everyone! You can do this with your groups volunteers, friends, family.
MY OUTFITS BETTER THAN YOURS – MEETING
Arrange a zoom / facetime / whatsapp meeting with your staff / volunteers & ask everyone to pay £1 to take part – BUT they have to wear the craziest outfit they can.
The one everyone agrees is the craziest gets a prize (you could make a hamper / arrange a coffee for after lockdown / donate a bottle of wine to the winner) .
DONATE YOUR WORK JOURNEY
A great way to get your supporters involved is to ask them if they could for just one day – donate the cost of their commute to work to your charity / cause.
As we are "furloughed" or working from home, it would be amazing if people could donate one days train fare or petrol money.
Add some fun by asking them to post some images to their social media by using a dedicated hashtag such as #CommuteForYOURCHARITY
If you have supporters who don't usually have a commute to work – how about
DONATE YOUR BEAUTY DAY
Pick a date & ask your supporters if they can donate the usual cost of their Hair trim / Nails / tanning session to you.
Add some fun by asking them to post some images to their social media by using a dedicated hashtag such as #BeautyCashforYOURCHARITY
READING FOR A REWARD
Many of your supporters, friends & indeed family will be feeling lonely at this time. Why not offer to read to them daily for a donation your charity.
Ask for book selections (preferable short stories / family friendly) & give them a date when YOU or (if you know anyone) a celebrity / sports person will read the story via a Facebook live event.
You can add a donate button to both the request for the book title & to the Facebook live event.
Make sure everyone you know shares it out & gets a lot of interest going.
These are just a few ideas – please take them & create / amend / grow as you wish.
I am happy to help if I can – info@CelebFC.co.uk
*************************************************************************************************
***********************************************************************************
Please join Celeb FC on our Social Media.
Click links below