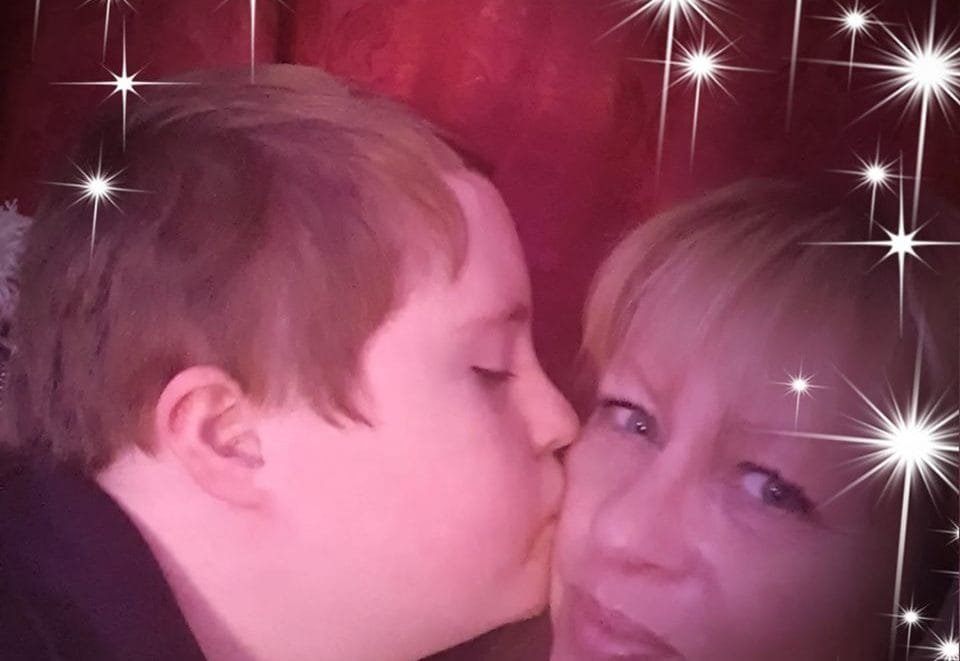 During the time when Celeb FC would normally be posting Blogs about our Fundraising with Charity Football & Gala events we will be posting stories from people who are part of the CelebFCFamily.
The first one is from our good friend, DAWN, in her own words….
My name is Dawn and I have a near perfect son called Tate, although he was born with a number of issues, for which he has had eleven operations since birth. He was also born with Down Syndrome.
This is not a sympathy vote; it's giving you a little background into why I am writing this!
Tate turns thirteen in May and with the very uncertain times we are all a part of right now, I wanted to write something positive.
Tate opened many doors that I never knew existed.
The thirteen years I have spent with him so far have really opened my eyes to some incredible families, healthcare workers, paediatric doctors, nurses and surgeons, charities, organisations & celebrities who tirelessly work to help others in great need that would otherwise be ignored or unheard.
The amount of diseases, syndromes, conditions & disabilities that are out there that are rare, in the forefront or just never heard of, still makes me catch my breath. Being around these beautiful, smiling children and young adults really puts things into prospective.
So this is where the story begins.
My very first thought when Tate was born was to create a beautiful garden for him to play in. As it turns out it was the most amazing thing I had ever done in my life!
This is when I decided to share everything, I was lucky enough to have with other families & carers with special & additional needs children along with their siblings. The was a swimming pool for hydrotherapy, a sensory room, a large play area with AstroTurf & a treehouse. Everything was free for them to enjoy. I wanted to ensure I had the best equipment for them to make use of, so I started to fundraise for it. I won awards from the Mayor & The Chris Donovan Trust for the work we did in our own home supporting over 80 families within the borough.
The awards were lovely, don't get me wrong, but it was the laughter, the bonding of friendships which will last a lifetime & the little miracles that happened each week in my presence. Not to mention the beautiful memories we were making.
Unfortunately, after being open for 10 years my husband & I split up, so my oasis of Little Eden came to an abrupt end. However, all was not lost!
My very good friend & partner in crime Karin who is the mastermind & mummy behind Celeb FC & TeamLookalikes came up with an amazing idea to carry on the theme of Little Eden. This is an essential 'service' within our borough so two heads are always better than one. After meetings with some local businesses & other supportive people, to see if the passion would be there for our vision, we created The Dream Barn.
As this story unfolds I will tell you more about our upcoming plans for this new & exciting venture.
After Refocusing, It was then, after a few attempts of planning my own fundraisers, did I start getting attention. Slow at first, but then I realised the help & support that was out there, not only for my own sense of worth & belonging, but to all the families I had begun to support. I found two fantastic non-for-profit groups who would be there for every eventuality offering the help, assistance, taking some weight off of very heavy shoulders & emotional wellbeing. I want to tell you about these two groups as you will start to understand where my heart lies.
SUTTON PARENTS FORUM
Living within the London Borough of Sutton, there are over 900 families with a child or young person who has a disability or additional need.
The children of these families have a number of different difficulties including physical & learning disabilities, behavioural, sensory or rare disorders, as well as severe health conditions causing additional care needs.
The Sutton Parents Forum is run by these parents for these parents, primarily to make sure that our collective difficulties are recognised by the London Borough of Sutton, & that we have a voice within the Local Authority to effectively inform decisions about resources, services & policies which will directly affect our children.
They have been an invaluable source of information & consistent support to many of us with our own stories to tell. Always there to listen & to give crucial advice. This is why Sutton Parents Forum has been chosen as one of our two favoured non-for-profit organisations in our upcoming fundraising event in October.
KINGSWOOD PONIES & FRIENDS
When we were introduced to Sarah Lopez the owner Kingswood Ponies it was like music to our ears! Not only did we have support within our network, which was growing daily, but now we had Animal Assisted Therapy also known as AAT.
This interaction improves individuals' mental, physical, social & emotional functioning with the aid of animals. Depending on the needs of the person, many different animals can be used in therapy. Their animals include Horses, Pygmy Goats & other small animals. This incredible work takes place in a variety of settings, including
hospitals, nursing homes, schools, special needs foundation schools & nurseries or in their beautiful woodland setting in Kingswood, Surrey.
The interactivity can take place individually or in groups & is led by qualified therapists & professionals. Therapeutic experiences include walking, brushing, petting & caring for the animals.
We have always known that animals are extraordinary creatures as they are accepting, non-threatening & non-judgemental, but to see the delight, especially those on the autism spectrum, ADHD & special / additional needs children is truly magical.
Kingswood Ponies are also very involved in the charity community working with children & adults with dementia, bereavement, emotional & behaviour problems, trust & relationship issues & developmental disorders.
Now you have read all about Sutton Parents Forum & Kingswood Ponies & Friends I know you will understand how important these two non-for-profit organisations are within our borough. I hope you can join us for our fundraising event in October!
BURLESQUE, BUBBLES & DRAG
SPARKLE PARTY
Every year, one very special night brings people from far & wide together. For the past five years The Sparkle Party has been hosted at Little Eden with incredible live performances from A list Celebrities who give up their night & fee to help raise money for charity. This extraordinary evening is full of ball gowns & tiaras & gentlemans tuxedos.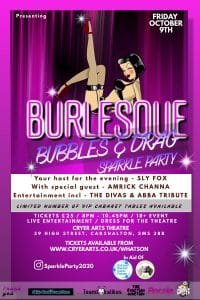 But this year we have taken this fabulous evening to a whole new level!
The clue is in the title! Burlesque, Bubbles & Drag Sparkle Party! October sees the Cryer Arts Theatre in Carshalton, Surrey hosting one of the most exciting & risqué events this decade! It will be decorated throughout by Niki & Chrissie from The Function Junction in our theme of pink & black. It will be classy, sassy, sexy & very, very camp!
The theatre will be totally transformed into a cabaret lounge including the grand circle.
On arrival you will enjoy a glass of pink bubbly before taking your seats. Sly Fox will be our naughty compare throughout the evening & will invite the audience to indulge in a decadent performance of Chantel & The Divas Burlesque Show.
A cold buffet will be served in the interval where you can top up your glasses at the bar.
The second half of the show will bring you to your feet with special performances from TVs Diva Amrick Channa, Abba Tribute & of course the ultimate in audaciousness, our very own Dancing Queen!
This one night only show is sponsored by Celeb FC, Rocoja Ltd, TeamLookalikes, The Function Junction & Mike Reed Promotions.
Musical Director: Sally Warren
Choreography & Staging: Dawn Harvey & Chantel Phillips
**************************************************************************************************
***********************************************************************************
Please join Celeb FC on our Social Media.
Click links below