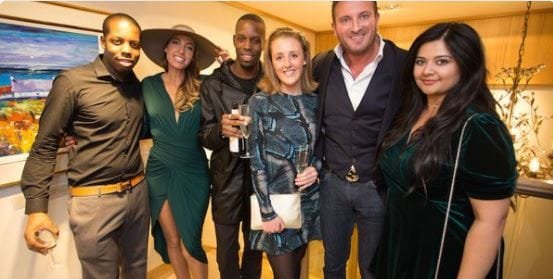 Recently Celeb FC Founder Karin was invited by Lady Wimbledon to the opening of the Clarendon Fine Arts Gallery in Wimbledon Village. Being a Wimbledon Girl and knowing this is a great addition to the Village, of course she jumped at the chance.
Clarendon Fine Arts is dedicated to the presentation of the finest national and international artists, introducing exceptional contemporary art to established and emerging collectors. Their flagship Gallery is based in Dover Street, London and Karin has visited there previously.
Over the last decade or so, The Gallery has opened some smaller galleries in carefully chosen suburbs & home counties, such as Marlow, Cobham & Richmond, so the opening of this beautiful gallery in Wimbledon is a great coup for the Village.
Karin invited Celeb FC teammate Jason Burrill (Big Brother 2016 Winner) to come along with her to the event, which was very well attended thanks to Lady Wimbledons group of Bloggers & friends. Amongst which were ex-teammates Noel of the fantastically talented TWIN MC'S & LORD TCO, another hugely talented Hiphop/Rap artist. It was great to catch up with them & we look forward to having them along with us at Celeb FC events in 2018 (hopefully along with Noel, other half of the Twin MC's).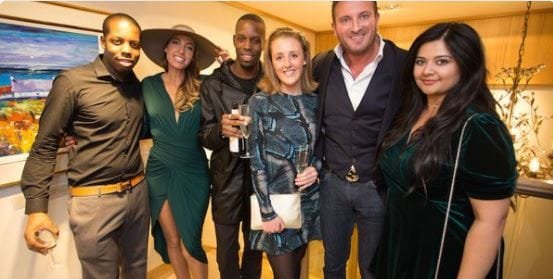 You can read more about this great event by clicking the link below.
LADY WIMBLEDON SPOTLIGHT – WIMBLEDON GUARDIAN
It's so great for Celeb FC to spend some quality time with the good people of Wimbledon, The Celeb FC Founders home town….
We look forward to seeing you out and about very soon…
To Contact Karin – Celeb FC Founder – Click Here 
To Contact Lady Wimbledon – Click Here
To Contact Jason Burrill – Click Here 
Please join us on our Social Media – Including our VERIFIED Facebook Page 
Please join Celeb FC on our Social Media – Click links below