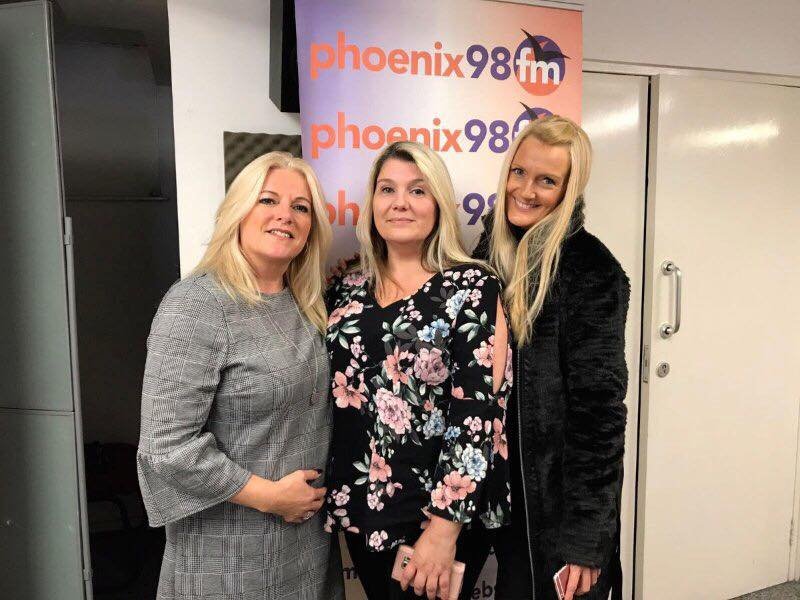 On Monday 6th of November – Karin the Celeb FC Founder & Jayne Connery (who you may remember from Big Brother 2016) were guests on DJ Tracey T's "Mixed Up Mondays" show on Phoenix FM.
Jayne is the Founder of CCTV Care Campaign for the Vulnerable & more importantly is the Carer for her mother, who has Dementia.
Her mother was diagnosed in 2010 & subsequently placed in her first care home; where sadly after a phone call from a whistle-blower, Jayne found out her mother had been assaulted. The person who assaulted her mother confessed to the assault & lost their job.
Jayne's mother was of course moved to a different care home – which sadly showed a lack of training & understanding of her disease. After viewing footage from a covert camera that Jayne had placed in her room, it was apparent that failings had happened again.
Jayne's mother now lives with her at home, with a roster of carers… BUT she is campaigning to have CCTV put into the establishments that care for the elderly. Not to punish or spy or take over from good care, but to act as an extra help, to pick up failings and act as an extra source of protection, picking up preventable neglect.
Karin wholeheartedly supports this campaign, as her mother has vascular dementia & has struggled in her specialist care facility (not from a failing in care or from abuse) but from preventable difficulties, such as wandering & isolation, which CCTV in communal areas would've picked up.
Tracey Thomas, a great friend to Celeb FC hosts a show on Phoenix FM on Monday evenings from 6-8pm & kindly invited us on to discuss this extremely important topic & to showcase the campaign single from The Rhetoriks.
You can see the video below.
The show was fantastic, as although we had a sometimes difficult & emotive subject to discuss, we were all very positive that we will effect a great change for the positive & the CCTV in Care Homes campaign will be successful.
We also spoke about Jayne's time in the Big Brother house and how she entered purely to be able to raise the profile of her work for this campaign. She also spoke about the friendships she made, especially with Hughie Maughan and how great it was to reach the final.
Karin spoke about Celeb FC & the plans for the future, including the 2018 events that are being planned already.. some of which are listed below:-
MS Charity Cup
Snap Charity Football
Ask Albie Charity Ball
Celeb FC 5th year Anniversary Ball
K9 Angels Charity Football
These will be up on the website very soon!
Thank you PHOENIX FM for having us along….

Phoenix FM is a community radio station broadcasting on 98.0 FM to Brentwood and Billericay, Essex, United Kingdom and also on line to the world!
To Contact DJ Tracey T – Click Here
To Contact Jayne Connery re CCTV in Care Homes – Click Here 
To Contact Karin – Celeb FC Founder – Click Here 
Please join us on our Social Media – Including our VERIFIED Facebook Page 
Please join Celeb FC on our Social Media – Click links below