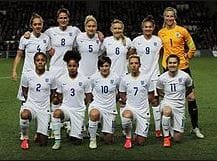 The women's game may still be dwarfed by the men's, but it's safe to say that it's catching up at a serious rate of knots. Here's 4 reasons why you can expect it to go from strength to strength in the next 12 months as you chant from the terraces.
Phil Neville is at the Helm
Having a top-level professional from the men's game come in and lead the national team is a real bonus for the women's game. This is a man who captained Everton, and learnt his trade as a utility player under Fergie — the greatest of them all. Could there be a better person to lead the nation into the next major tournament?
We're Regular Semi Finalists
The national team has reached the semis of the Euro and the World Cup in recent years, which means we're one of the world's strongest teams. With a number of players signing for big clubs in the US where women's football is huge, that's a trend that certainly looks set to continue.
Man Utd Finally Have a Women's Team
Since 2005 the world's biggest club were without a women's team, but all that has changed this season. They're riding high at the top of the second division, and showing that women can play the same attacking style of play the men have been wowing the terraces with for over a century.
Fran Kirby is the Female Messi
It's not often that a player can live up to the tag of the 'New Messi' but Fran Kirby is certainly giving it as good a try as anyone. She brings tricks, flair and plenty of eyes to the women's game. Three things that will be sure to help grow the fanbase year on year as women's football continues to establish itself as a mainstream sport.
***********************************************************************************
Celeb FC Founder Karin is very passionate about women in Football & will be watching….
Please join Celeb FC on our Social Media – Including our VERIFIED Facebook Page 
Click links below