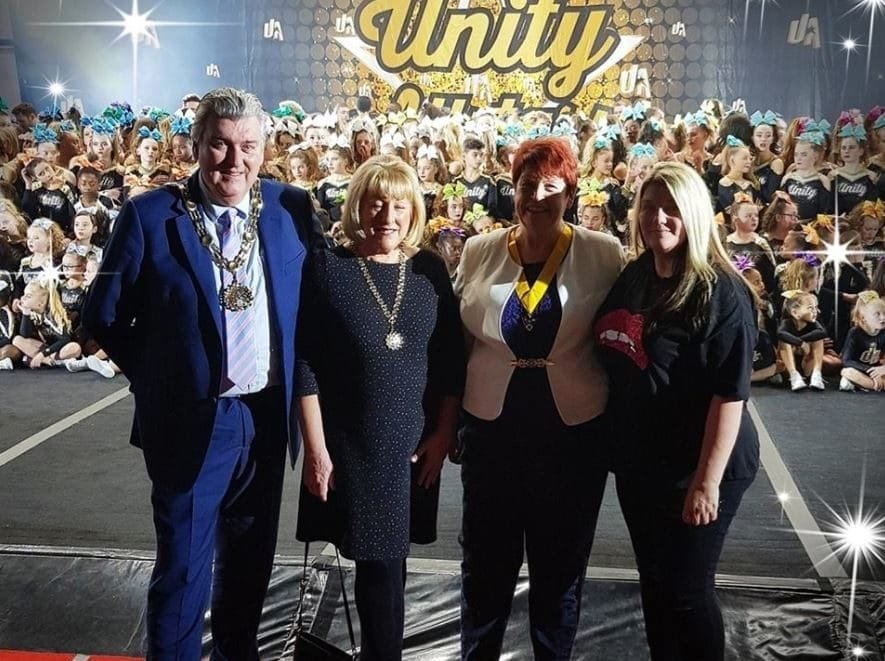 I've never really taken much notice of "Cheer-leading" being a full on Charity Football girl, but recently I was invited along with Local Sutton Councillor Jean Crossby, who is a huge fan of Unity Allstars who are a Cheer-leading group/school from Sutton in Surrey, to their season debut show. (Follow #UDEBUT on all social media)
Seated right at the very front with The Mayor & Mayoress of Sutton, We had a great spot.
I am so very very glad I went along – My eyes were certainly opened to the level of dedication of not only the cheerleaders themselves (male, female, young & older athletes), but of the families, friends &  volunteers who support the sport & those working therein.
Since my attendance I have done some research, as I NEVER appreciated the level of dedication, fitness and co-ordination needed to be involved in this sport (which completely aside from being a fun boost at half time for a sporting event, is now quite rightly being taken very seriously & is growing into a massive sport in its own right).
All I can say is – if you are looking to get into an activity (or looking for something for your youngster to get into) where you can be part of a team, build your level of fitness & have a lot of fun – I would say – Cheer-leading is for you!!
The season debut that I attended was held at the Unity Allstars gym at Harris Academy in Morden, surrey where the various ability teams powered through routine after startling routine on a full size competition floor.
Sadly I didn't get a chance to meet many of the athletes themselves but I did get to have chats with a number of the people who are dedicated, behind the scenes workers, such as the amazing "Cheer Mums". I also met with the amazing program director – Tori, a lady after my own heart.. Passionate, driven & totally focused on the tasks at hand, whilst also visibly caring for her athletes.
I am so very grateful for being invited along… I truly hope Celeb FC & Unity Allstars will work together in the future ; until then, I will look forward to seeing them perform at the St Helier Music & Community Festival on the 22nd June 2019.
Please find out more about Unity AllStars by clicking HERE
Thank you again for an amazing afternoon – Celeb FC Founder Karin….
******************************************************************************
Please join Celeb FC on our Social Media
Including our VERIFIED Facebook Page 
Click links below