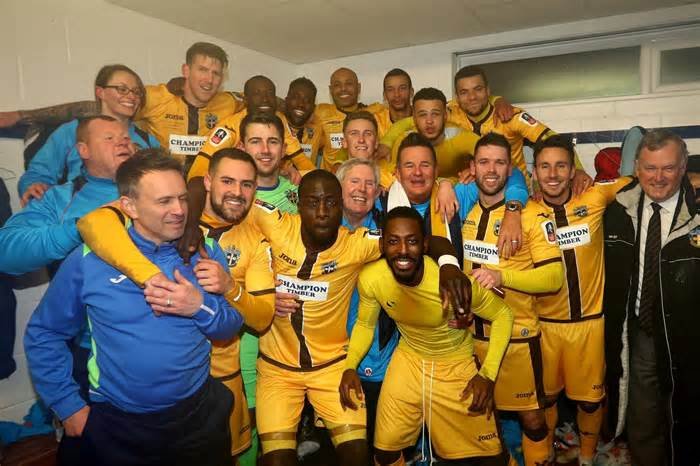 After yesterdays match – Where Sutton United took on the might of Arsenal, Teammum wanted to write a few words.
Sutton's (completely deserved) adventure may have ended at the fifth round – but the club, players and staff must be very proud of the way they handled this clash.
Sutton themselves are a non-league club, over 100 places below Arsene Wengers team. and as such they have their ups and downs like many clubs in the lower rungs of football but they have left a HUGE mark on this years FA cup. Firstly their victory against Leeds united (which lets be honest, no one saw coming) and secondly with the way they conducted themselves against one of the giants of the premier league.
As much as many of us who have a soft spot for Sutton United, wanted them to win, I think it was going to be one craziest days in Football ever, had that happened..
However, the game was played with a passion and hunger that is rarely seen in premier-league football… the passion and hunger of players who are on a "normal" wage… ones who know that a goal is a "life-changer" – That this match is sadly, a once in a lifetime event…. The team Sutton fielded  gave Arsenal a run for their money!
There were even a few breath catching moments when they gave the Gunners some serious cause for concern. Lets be honest – Deacons shot that hit the bar & rebounded almost twice as far as he was standing was exceptional and Collins header that missed its target so very narrowly, were why many of us love & hate the beautiful game… Its so frustrating…
I visit Sutton quite regularly in my role as Celeb FC founder and I can honestly say, the players, the volunteers, the staff and everyone connected with the club have a heart that is overwhelming – Particularly Bobby who is one of the nicest people I've met in my time running Celeb FC.
I truly hope they have won some new fans because of this adventure.
Sutton United FC have allowed Celeb FC to use their facilities on a good many occasions, to raise money for Small Surrey based charities… Without so much as a raised eyebrow… This is the Heart that Celeb FC values so much..
Believe me, we don't get a warm welcome like this at every stadium/club we approach… be it large or small….
Sutton will now go back to the task at hand, working their way up the ranks – and to that end, their next trip is to Torquay United next weekend. I really hope they do well.
We will be at Sutton United on July 9th for a Charity football game – Please try to come along – If only 10% of the fans that turned out for the match last night, came along for us to raise money for the Sutton based small charity ONE STEP AT A TIME, could you image the funds we could raise & the great afternoon of football we would have?
For more information on the Memory Cup match – email MemoryCup@Celebfc.co.uk
We will have a Programme printed for the day also – (2000) to be given to entrants, with spot prizes (lucky programme number)… If you would like to advertise in the programme, please email info@celebFc.co.uk – its JUST £35 for a quarter page advert – with everything over the production cost going directly to the Charity.
Lastly – Well done again Sutton United… and Thank you from all the Celeb FC Teammates for your ongoing support.
If you would like to know more about Celeb FC, please email info@CelebFC.co.uk  or visit
Feel free to use this blog post or any part of it, but please link back & Credit Celeb FC.co.uk