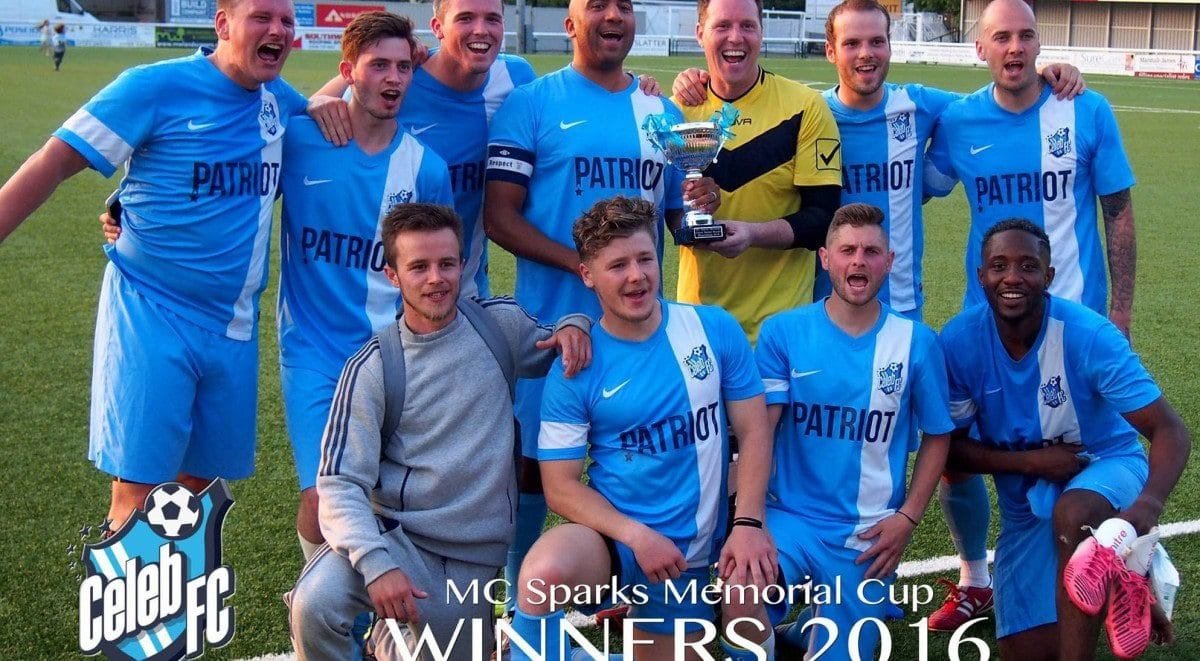 Its been almost a week since the #SparksFooty 2016 event at Sutton United FC.
Teammum has had an exhausting week – every event takes a toll, more & more as time progresses and #SparksFooty is particularly tiring as Celeb FC arrange, organise, fund, sponsor and volunteer at the event themselves.
This event was to commemorate our wonderful teammate who we lost tragically in 2014, MC Sparks.
Sean was from the same area in London as Teammum and had the same circle of friends, our paths crossed at odd times throughout the years, but in later life we really clicked over a passion for Football & a wish to help those who needed help.
We have held two #SparksFooty events so far – 2015 & 2016 – Both were attended by Seans Family & friends & have been wonderful family orientated affairs. This years match & evening at Sutton United was extremely exciting, with live music performances & special celebrity guests throughout the day.
The Charity Football match ended with a 5-4 win to the Celeb FC team.
MC Sparks All-Stars Teammates
[huge_it_slider id="5″]
Celeb FC Teammates
[huge_it_slider id="6″]
There were some fabulous photos taken on the day
[huge_it_slider id="7″]
We also have Video coming from Superstar Video productions & Essex TV.
Special Thanks go to everyone who came along, Especially the wonderful Ray & Vi from The Chris Donovan Trust who stayed all day & evening – even donating gifts to the Raffle.
Sadly, Teammum didn't get to see the Ladies from SCILL who had to leave during the match & also missed the great show in the evening & the fundraising raffle & cakes etc.
#SparksFooty 2016 Charity Football Match was bought to you by
Celeb FC & Sutton United FC
Supported by
Rob Lamarr Media – Superstar Videos & Clare Sloane Presenter – WK Trophies – Patriot Sports – Ministry of Cheese – Dunmow Maintenance Ltd – DC Goalkeeping – Kingies Castles – British Red Bus – Robyn Bramley ( Physio ) – Mark McQuade ( First Aid ) – Bobby Childs ( Sutton United Liaison ).
#SparksFooty VIP Evening Event was Supported by
DJ Kingsley – Rob Lamarr Media – The Party Paparrazzi – Superstar Video & Clare Sloane
Prizes were gifted by
Nothing Clothing Co – Dyson – PC World New Malden – NutriNinja – Now That's a Festival – The Chris Donovan Trust – Paul Scully MP – Tom Brake MP – Rocoja Limited – Flirt PR – Nicole Clancey
Performers & Special Guests
Sharlette – Vivica Jade – Linda Lambert (Storage Hunters) – Mike Gabbitas (Fantastic Beasts)
Celeb FC Players
Rob Lammar – Little Ady – MC Kie – Jigga (Paul Shelock) – DJ Pied Piper – Rootsy – Danny Legend – Josh Crosswell – Paul Danan – Ya Ya (Jamil) – Darren Taylor – Chris Jennings – Kevin Leslie – Brandon Myers  (As MC Sparks All Stars Player) – Felipe Baquero (As MC Sparks All Stars Player)
Special Thanks to
FLEX FM  (Huge donations & support) –  MC Sparks All Stars Team – MC Sparks Family
Volunteers on the day – Jade, Roxanne, Clem, Kelly & Tracy
Doverhouse Lions – Celeb FC Mascots  &  CroyGas Pirates – MC Sparks All Stars Mascots
Media & PR for Celeb FC & MC Sparks All-Stars by Rocoja Limited 
Thank you all for keeping Sean's memory alive in such a positive way
XXX Teammum