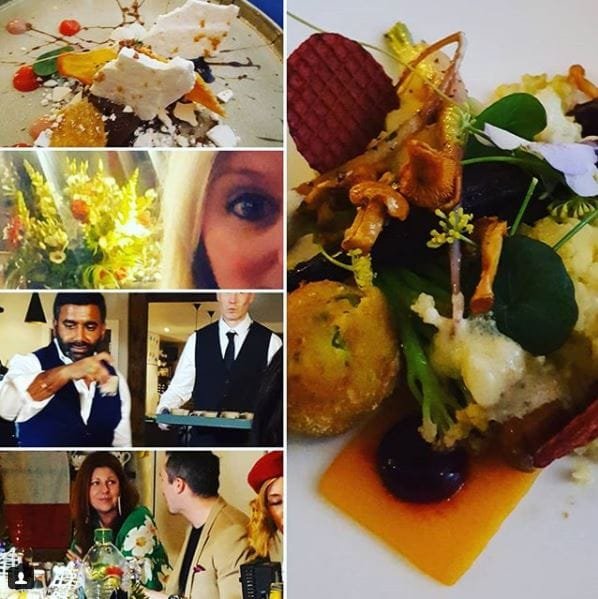 It was a brilliant weekend for me; as Celeb FC Founder, I have been been introduced to the delights of the "Supper Club" phenomenon, thanks to the invitation of the wonderful Lady Wimbledon..
Supper clubs are completely different from restaurants, allowing gastronomes among us to sample wondrous delights & eat amazing food whilst being totally comfortable in our surroundings.
This weekend – the very beautiful venue was the home of Lady Wimbledon & I was with teammates from Celeb FC & friends from the wildly diverse Wimbledon community.
Add to this a dining experience which fused Indian & French cuisine at a level I have never experienced before, my Friday evening Supper Club inauguration was an immense success!
The photo's I took personally do not do the food nor the company justice & to be honest, I was so engrossed in the menu of delights, I forgot to take the pictures I really wanted too. However having professional food photographer Majella of "Pavlova and Cream" there to capture the evening helped immensely because when I really want to re-capture the moment I set eyes on the delights served up to the guests, I can, thanks to her fabulous pictures.
However for now – My photos (& a few nabbed from guests Twitter accounts) will have to do….
I am of course, really looking forward to the next NCSupperClub event (which are run by the very lovely Nesan). This time he brought fabulous chef Arup Dasgupta to Lady W's home, who wowed us all with absolutely inspired combinations of Indian & French fusion food. Add to that the ambience achieved not only thanks to Lady W's fantastically French music playlist, but also the extra little touches that really lifted the whole evening, such as beautiful cutlery & plates.
After the dinner itself, there was one hell of a French themed macaron tower – in stunning Red White & Blue courtesy of Becks Bake – I certainly know where I am going to go if I need a cake in future!
Alongside the delights above, there was thirst quenching Coconut water from Jeeva Naturals  which was a huge hit with teammate Marlon Wallen.
The evening was captured effortlessly as always by Charli Burgio  – Photographer extraordinaire.
Thank you to everyone who attended, it made for a fabulous evening.
Especially teammates Marlon & Michael.
Karin –
To Contact Karin – Celeb FC Founder – Click Here 
For PR / Celebrity appearances – Email Here 
Please join us on our Social Media – Including our VERIFIED Facebook Page 
Please join Celeb FC on our Social Media – Click links below