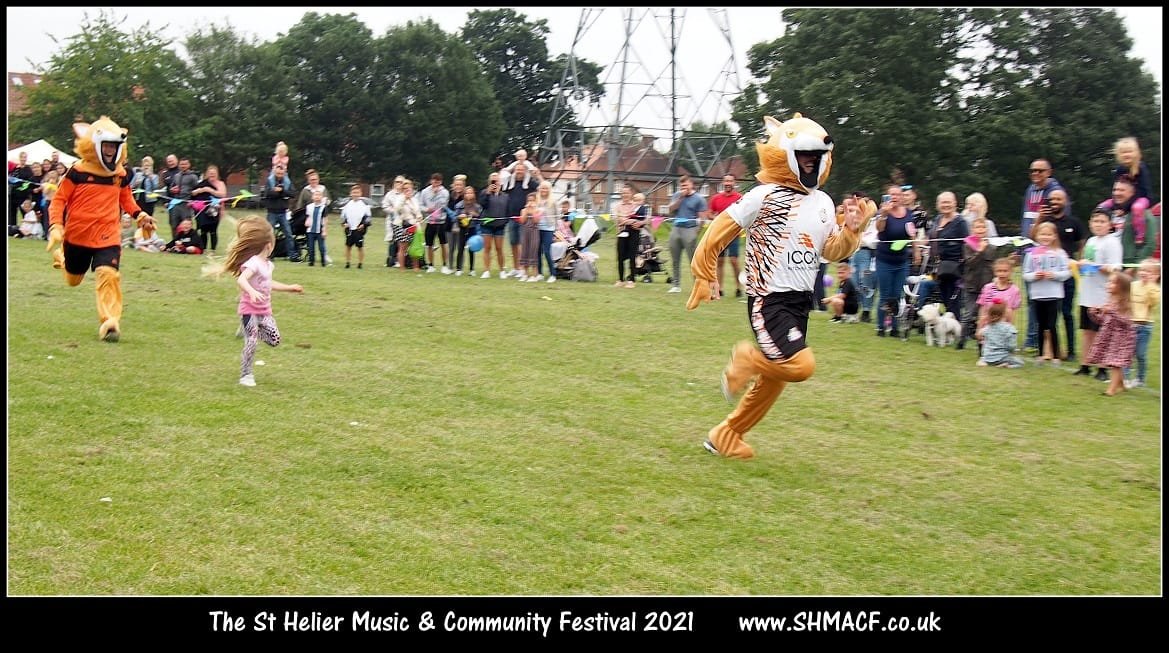 The St Helier Music and Community Festival, is an annual event in Sutton, Surrey was forced to postpone last year due to the pandemic.
A few months late & after just a few months of planning it returned on Saturday 4th of September 2021 after an amazing save by a local committee of volunteers who refused to give up on it.
The Celeb FC Founder Karin has been on the planning committee since 2018, supporting the volunteers with her wealth of charity fundraising & event planning knowledge. Celeb FC also brought on board at that time, our own sponsors Rocoja Limited who now provide the Website ( www.SHMACF.co.uk ) , Design, Branding, Social Media & PR for the #SHMACF without charge, to help this amazing community day be as best it can be.
So back on again, the St Helier Music and Community Festival (SHMACF) was extremely lucky to be blessed with late summer weather of light breezes, patches of bright sunshine & a dry day! There were also hundreds upon hundreds of local people, enjoying an event, created and facilitated by people from their community!
Susan Peters, chair of the SHMACF committee, couldn't have worded it better when she said recently– "This festival is a family event and last year was very hard on everyone, when we realised we couldn't organise the event as we know there are many in our community who truly look forward to this fun FREE day".
On the day Celeb FC teammate, Semi-pro Footballer Matty Males and Celeb FC Goalkeeper & TV Presenter Rob Lamarr came along and had photos with attendees, helped with the Mascot race and generally had a great day themselves, thanks to the organisation  www.CelebFC.co.uk – again their time was provided for without charge.
Karin Flower, Celeb FC founder, said: "I was delighted to have a hand in creating the amazing 2021  SHMACF. As being part of Celeb FC, small UK charities and community groups are close to our heart, this was a fully inclusive event, with something for everyone."
Celeb FC also had an information stall at the event – which had some children's games – We are pleased to announce the following winners also.
How many Footballs in the Jar Game – Winner – CHARLIE (Has been contacted)
Name the Celeb FC mascot – Winner To Be Announced
On the day Celeb FC were also visited by the Mayor Trish Fivey and Deputy Mayor Annie Moral and MP Elliot Colborn – Thank you so much for the support!
The Famous SHMACF Mascot race took place at 4.15pm with some very competitive entrants!
Celeb FC provided a grand 20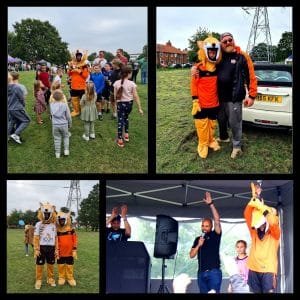 inch Silver & Gold Trophy for the winner.
Thanks to our Fox forgetting to stop at the end of the race
This years winner was – The FOX from Carshalton Little League.
The Trophy was presented on the stage by Celeb FC sponsor – Chris from Icon Kitchen Designs.
Everyone who entered & everyone who watched had an amazing time!
This event couldn't happen without local business sponsors (Buttercups Florist, Sutton Boot Sale, Rocoja etc) & a huge shout out goes to The Co Op who provided bottled water for the volunteers (via the Member Pioneer for Sutton, Wallington & Carshalton), Also big thanks to the  David Weir Leisure Centre. for allowing us to use their facilities not only on the day, but in the run-up to the event for storage & meetings.
The SHMACF Committee cannot thank everyone who gave time, donations, skills etc for free to this event, enough.
All the feedback from attendees has confirmed that the #SHMACF committee delivered a great event for the community on a shoestring budget..
IMAGINE what they could do with a headline sponsor for next year!!!!!
Have a look at www.SHMACF.co.uk to see what this great group of people achieve!
If you have any ideas on who they should approach – please email Info@SHMACF.co.uk 
Here is a gallery of what was achieved
*************************************************************************************************
***********************************************************************************
Please join Celeb FC on our Social Media.
Click links below