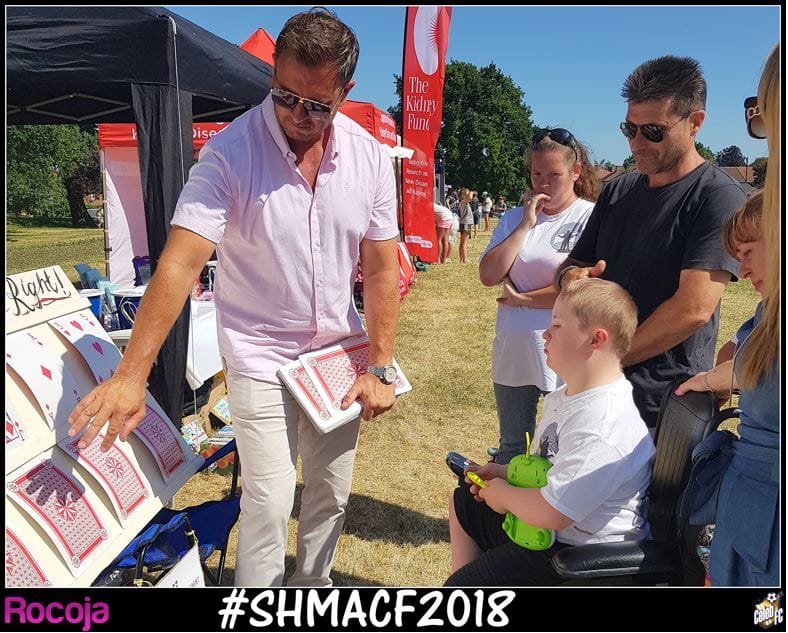 The St Helier Music and Community Festival, an annual event in Sutton, Surrey which was forced to stop due to a lack of funding, returned on Saturday 30th June after an amazing save by a local committee of volunteers who refused to give up on it!
On the committee was – Celeb FC Founder Karin, offering advice on Sponsorship's, Media, PR, Advertising & Event Planning etc
So back on for its 10th year anniversary the St Helier Music and Community Festival (SHMACF) was bathed in glorious sunshine for the whole day and saw hundreds upon hundreds of local people enjoy an event, created and facilitated by people from their community!
Susan Peters, chair of the new SHMACF committee, couldn't have worded it better when she said in a recent newspaper interview – "I believe this festival is a family event and have always enjoyed attending over the years, to see it end would have been incredibly sad for every member of the local community."
Income from large borough contractors and local authority sources, which was used up until this year's event, to pay for the creation and running costs stopped coming in in 2017.  To continue to run successfully, safely and professionally a number of actions needed to happen, so new ways of funding were found.
Stall holders (Charities, Non-Profit Groups, Community Groups etc) were asked to pay £15 towards the event for the first time, while small businesses contributed £25 to be at the event. This change was positively accepted by all concerned as the SHMACF is an event close to Local community groups and small businesses hearts and they all understood the reasoning behind the implementation of the charges.
The SHMACF committee also went out to local businesses for sponsorship (with a very small-time frame before the event they were worried this may not be feasible) but were pleasantly surprised when the David Weir Leisure Centre agreed to allow all SHMACF Committee meetings at their premises whilst also allowing full free use of the centre during the event for any attendees. The David Weir also agreed to have a seat on the committee and really assisted with the logistics of the event, including the opening & closing of car-parks, printing of information material and marking of the field etc; Then came Rocoja Ltd a local small media / marketing business who agreed to cover all Poster / Flyer / Banner Design, Social Media Advertising, Website Design and Creation for free for this year.
They were followed by Towie Scaffolding who contributed towards Banner production costs; Taylored Events, providing a Photobooth on the day: The British Red Bus Company, who provided The London Routemaster Bus and played the music for the Cheerleading display teams and Kingies Castles, who provided the Bouncy Castle and Slide at the centre of the field – all without charge!
Also then came the local small businesses who advertised the event in their shops/businesses for free for us (again as we had no advertising budget).
Also, on the day Big Brother Winner Jason Burrill, Semi-pro Footballer Matty Males and Simon Cowell Lookalike Andy Penfold came along and had photos with attendees, ran the "Play your Cards Right" stall and generally had a great day themselves, thanks to the organisation www.CelebFC.co.uk – again their time was provided for without charge.
Karin Flower, Celeb FC founder, said: "I was delighted to have been asked onto theSHMACF committee for 2018 and to assist with the organising of this year's SHMACF, as being part of Celeb FC, small UK charities and community groups are close to our heart, this was a fully inclusive event, with something for everyone."
We were also visited by the Deputy Mayor and Deputy Mayoress of Sutton and MP Tom Brake – Thank you so much for the support!
Being an extremely hot day, the committee also had to find water to give to attendees – this was a huge amount needed and the logistics of collection and paying for this without a budget was a huge worry, until Tesco in Sutton (through Celeb FC) stepped in and saved the day with hundreds of donated bottles of water – delivered direct to the David Weir Leisure Centre.
The SHMACF Committee cannot thank everyone who gave time, donations, skills etc for free to this event, enough.
All the feedback from attendees has confirmed that the #SHMACF committee delivered a great event for the community on a shoestring budget.. IMAGINE what we could achieve with a headline sponsor for next year!!!!!
If you have any ideas on who we could approach – please email Info@SHMACF.co.uk 
Here is a gallery of what you all helped achieve!