At 11am on Sunday, July 28th 2013, Football teams formed from teachers from Harlow primary and secondary schools will take to the pitch at Harlow Town Football Club, along with Harlow's very own Police FC.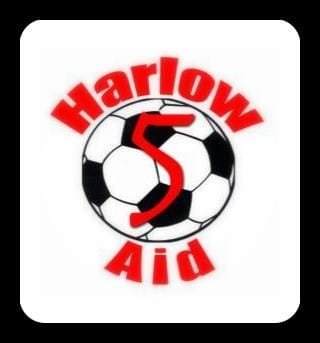 They will be taking on a celebrity team, made up of some wonderfully generous Celebs who are giving up their Sunday to play in what can only be described as a tournament that will be 5 times as exciting as usual, as 5 very worthwhile charities will be benefiting.
The Charities everyone will be supporting are The Abbotsweld Memorial Fund, No Child Without, Harlow Foodbank, The Cardiomyopathy Association Mitchell Cole Trust and Variety Club of Great Britain.
As the event is supporting five charities, officers have named it "Harlow 5 Aid ".
All money raised through ticket sales will go to the charities above.
I will be blogging in depth about each charity as the event gets closer, but just to give you a little back ground info, there is a small piece on each charity below:-
The Shakoor Memorial Fund for Abbotsweld School supports a group of people who dedicate their spare time to building a memorial garden and play area at Abbotsweld School in memory of Dr Sabah Usmani and her five children who died in a house fire in Barn Mead on October 15, 2012.
No Child Without, works towards to support young people in Harlow who are in need of financial help, clothing and school equipment.
Harlow Foodbank provides emergency food for people in crisis in Harlow and the surrounding area and works in partnership with front-line care professionals, churches, schools, supermarkets, businesses and individuals. It is a community project where people donate non perishable food and it is distributed to local people in need, through a structured referral process.
The Cardiomyopathy Association Mitchell Cole Trust is the chosen charity of the celebrity team. It is being supported in memory of Mitchell Cole, a professional footballer and supporter of previous charity football matches in Harlow who died from a heart condition. The charity supports families affected by cardiomyopathy, a disease of muscles in the heart.
The Variety Club of Great Britain aims to improve the lives of children and young people throughout the UK who are sick, disabled and disadvantaged.
Tickets for the event will go on sale in June so please keep sharing the BLOG, Facebook & Twitter links out as details on how to buy them will be released via social media as soon as we can.
Sgt Tony Smith, who is based at Harlow Police Station, is one of the organisers. He said: "This event is all about the Harlow community coming together to support others who need our help.
"There are a number of people working very hard to make sure the event is a day to remember, not just for those who choose to come along but for those we hope it will raise money for.
"As preparations progress further details will be released and there may even be some surprises on the day!"
There are a number of Celebrities already on board & over the next week or so, you will be seeing some great announcements go up on each Social media page.
Thank you for reading & Please share this out.
It will be a great day & we hope to see you there
Harlow 5 Aid has had a Facebook Account & Twitter Account created by Cleb FC Teammum Karin to assist with awareness –