Karin Flower, from Wimbledon was recently awarded the Care Campaign for The Vulnerable Award for her support of the campaign's movement to make safety monitoring mandatory in Care Homes in the UK.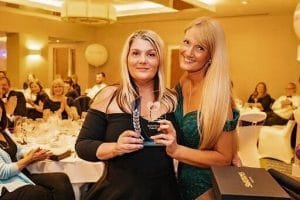 It was presented by CCFTV founder Jayne Connery
Karin from Wimbledon, South London is founder of the non-profit community fundraising group Celeb FC; which is made up of celebrities & volunteers from the world of reality TV and music along with ex-professional sportsmen and women, who play in charity football matches and participate in events without charge to enhance the fundraising capabilities of small UK charities and individuals.
Karin has run the non-profit from her Wimbledon home since 2014, whilst battling her own health issues. The group was founded to benefit small UK charities, giving smaller charities and community groups the opportunity to increase their fundraising ability without having to factor in costs usually associated with having a celebrity (or a celebrity team) along to an event.
She joined the Care Campaign for The Vulnerable committee early 2017, after meeting Jayne Connery at one such event. As Karin completely understands the need for safety monitoring to be implemented in care homes, providing extra levels of support for carers and the elderly, supporting the movement was easy.
In May this year Karin was presented with the Care Campaign Award for the most "Inspirational Supporter", which added to her previously received award for "Inspirational Woman" from the Chris Donovan Trust.
Karin, said, "I am very humbled to accept this award. However, I must accept it on behalf of everyone who supports the ideals and ethos behind Celeb FC; The celebrities who do not charge to appear, the volunteers who help to organise and our run events, the small businesses who supply us with kits, Event decorations, music, water  and everything we need to be able to support the people who need it.  Everything we do is important and every charity or individual we support is important. But of course, this movement is very close to my heart as my own mother has dementia and many other health conditions, so I completely understand the need for quality, comprehensive care and safety monitoring of our most vulnerable elderly".
The night was hosted by ITV Jackpot 247 presenter Rob Lamarr and was attended by some good friends of Care Campaign for the Vulnerable, including executive chairman of the National Care Association Nadra Ahmed OBE and actress Aimi MacDonald.
Entertainment was provided early in the evening by the amazing soprano group IDA GIRLS and then after the awards ceremony by BBC impressionist Jon Culshaw.
A full list of Award winners and more information can be found at  www.CareCampaignForTheVulnerable.com and www.CelebFC.com.
For further information on the awards or Celeb FC, please contact Karin Flower email info@CelebFC.co.uk
If you would like to know more about Care Campaign for the Vulnerable, please visit careCampaignforthevulnerable.com
Please join Celeb FC on our Social Media – Including our VERIFIED Facebook Page 
Click links below