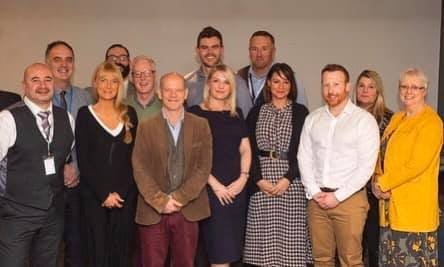 Care Campaign for the Vulnerable, which was founded over five years ago by former Marketing / Promotions executive Jayne Connery recently held an open day where attendees were invited via Linkedin to come along & have a honest & open discussion around the subject of safety monitoring in care homes.
The group was an eclectic mix, with some of the CCFTV committee (Founder Jayne, Andrew & Simon from Shedfield Lodge, Karin Flower from Celeb FC & Sean Keep from Say-so) along with attendees who have links to care, including care home owners, safety monitoring & security suppliers, care home inspectors & more.
Care Campaign for the Vulnerable is leading the way in championing safety monitoring to be installed in communal areas in ALL dementia care homes across the UK. They are hopeful this will be a ground-up movement with the care home owners really understanding the benefits safety monitoring brings. Part of this is ensuring they have easy access to information on what systems & solutions are available, why they are available & the feelings of families who have loved ones in care.
For Celeb FC founder Karin, the opportunity to represent families in care is an honour & for her personally the issues she worries about are preventable neglect (lack of stimulation), wandering & handling.
However, overall families of those in care just want to feel their most precious loved ones are safe & secure & treated well.
Sometimes failures can simply be attributed to carers needing support & guidance, which safety monitoring can indeed provide.
Imagine the chance to identify best-practice when it happens & actually thank & commend someone for it. Imagine being able to use real-life situations to train & inform new recruits to care…
The benefits of safety monitoring for the residents are vast BUT for supporting the care industry as a whole is even bigger.
One of the attendees of the open day, Shedfield lodge, who have safety monitoring in their specialist care homes, have done a quick study on the financial impact of safety monitoring & the savings to the NHS alone just from not having to call an ambulance every time a resident has been found slumped on the floor has been in the thousands in 1 year alone.
The fact the care provider can immediately look back over footage & see if someone has placed themselves on the floor (it happens) or if a "fall" was in fact a slide down a wall etc is absolutely priceless – both in time & financially.
Also discussed were the terminologies used around safety monitoring / CCTV & the fact they can be off-putting (as can the legalities).. This is a vital conversation as it clearly shows we have very responsible, caring care home owners who want to find out more about how they can improve their residents experience with them (both safety wise & day to day) but sometimes feel a little in the dark. The specialists who had attended the open day from Say-So,  Care Protect & Almas Industries were experts in their fields of reporting, safety monitoring & secure access & were able to speak to us very knowledgeably & touch on some of the subjects raised.
This proves the subject of Safety Monitoring is most definitely a discussion, forward thinking care providers are looking to have .
Karin Flower, founder of Celeb FC has said "Celeb FC are a group of celebrities & sports people, who attend events without charge to raise funds & awareness for the smaller UK charities, non-profits & community groups who otherwise may not be able to afford PR & appearance fees. I am so happy we are able to be a part of this amazing movement as what Care Campaign for The Vulnerable are trying to achieve with regards to safety monitoring of our most vulnerable adults is absolutely essential.  We are proud to be supporting Care Campaign for the Vulnerable .
************************************************************************************
All Media, PR & Website management by www.Rocoja.co.uk
Celeb FC are supported by Chandlers Building Supplies, Taylored Events, It's Nuts About Balloons, & Classic Sportswear
If you would like to know more about Celeb FC, please email info@CelebFC.co.uk or visit www.celebfc.co.uk
**********************************************************************************************
Celeb FC
Founded in 2013
Contributed to raising just under £300,000 since 2013
Operates as a not-for-profit, micro-business, supporting small charities & individuals in their fundraising efforts.
All Celeb FC operating costs are met by sponsors – for 2020 these include Chandlers Building Supplies, TayloredEvents and Nuts about Balloons .
Our Kit & Ball suppliers are (Still too be finalised) & Classic Sportwear Wales.
Our Medical Bag supplies sponsor are WimbledDerm
All Celeb FC teammates & staff are volunteers.
Celeb FC are sponsoring the lovely Abbie (Miss Surrey 2020) in her journey to the Miss British Isles final Autumn 2020
Media, PR & Website all donated by www.Rocoja.co.uk
***********************************************************************************
Please join Celeb FC on our Social Media – Including our VERIFIED Facebook Page 
Click links below