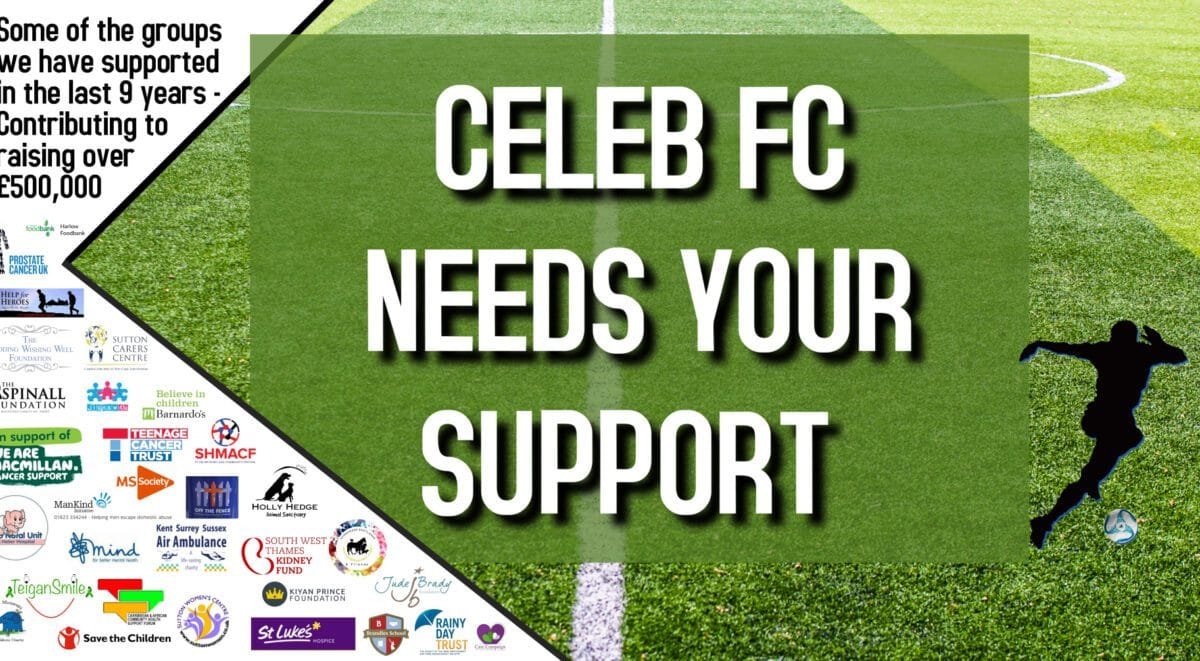 * This blog has been updated – Please scroll to the bottom for the Update if you have already read the main blog previously** 
A personal message from Celeb FC Founder Karin Flower – This is a very different & difficult to write post, so please bear with me.
Celeb FC was created in 2013, by myself after a long conversation with some friends of mine (who happened to be celebrities playing in a charity fundraising match, I was asked to help organise).
Anyone who has followed our journey knows that we created Celeb FC as a TRUE non-profit , registered with HMRC as a LTD business with 1 share (owned by me – at a value of £1). This is so we were able to show yearly the money in & out of Celeb FC, where it is from & what it is spent on.
Any income was to come in & go out pound for pound from any sponsors for kits, balls etc.. Any donations / event payments (turnstiles at football / tickets at galas) have always been paid direct to the charity / community group we support, Celeb FC takes NO money for attending events..
The first couple of years there was no turnover in the "ltd business" – BUT people donated kits & balls etc, so we were able to attend events and support charities all over the south-east.
Thankfully after trying to get sponsors to believe in our way of working, we finally started receiving support from 2016.
However the running of Celeb FC has over the 9 years from 2013 has had costs & I myself have used all my savings to prop up those costs as I truly believe NO DONATION to a charity / community fundraiser event should pay for anything the donor doesn't know about / agree to paying. Also Sponsors who are brought on board to pay for kits / balls / travel are not there to be paying for accountants / filing costs / Directors costs / meeting costs / travel costs etc etc.
Celeb FC as a group have always maintained Transparency is the key. There is no issue with other "Charity Fundraisers" making some money – after all its damned hard work to organise and run events BUT the issue is the transparency.. We all (everyone connected with Celeb FC), believe donors / event attendees MUST know where is the money raised going to, is anyone earning out of the event & where are their precious donations are being spent etc.
This is why despite the difficulties, Celeb FC has always proudly maintained its transparency.
Every year there is a minimal amount of transactions (under 30) & Celeb FC is active is only 7 / 8 out of 12 months.
(This is all easily viewable on Co House).
I lead onto the reason for this post.
In January this year (2022) I received a letter from a debt collector to say a filing due on the 31st of July had been received on the 1st of August & as such was "LATE" & Celeb FC owed £150 in a penalty.
The Celeb FC Accountant & I were very surprised as despite my being in hospital in July (3 weeks due to severe Covid & Gastroenteritis, where I lost 3 stone in 4 weeks) I had signed the accounts & he had submitted them on the 31st of July.
On investigation with Co House, the Celeb FC accountant was told (paraphrasing) this shouldn't have gone to collectors & we should appeal as it was literally a few minutes late (The online portal had been sent the accounts at 11.30pmish BUT the Co House system hadn't "filed" them until 12.25am). We were told to appeal – Which we did.
Sadly late March I then received a summons for a court in the north of England. The Celeb FC Accountant contacted the court direct & filled in a form asking for this to be transferred to Croydon (Near where I live, as I cannot travel well due to ill health).
In May I got a form to ask if I wanted to defend this claim, which of course I did & I wrote in it about the filing being sent on time & co house originally saying it was calling the debt collectors back, as the filing clicked over a few minutes late (PLUS there is no profit, no tax to pay etc etc).
In July I was sent a court document saying the court had been rescheduled to Birmingham (Still 3½ hrs drive from me). I called the court & queried this & asked why Companies House were telling me one thing & doing another & the court clerk told me to its not Companies house, this is "Shakespear Mathew" (I later find out its a solicitor in Birmingham – Shakespeare Matinew). Neither myself nor the accountant had heard of these people so the Celeb FC accountant then wrote again asking for it to be moved (explaining me illness etc).
We heard nothing until on Tuesday 6th of September I heard my Postman (late ) & popped out to see what was in the post-box & there was a big letter from Birmingham court.
Court Date – 13th September – Birmingham!
However – 14 days beforehand I MUST send all documents & witness statements to the court & to the defendant – (in my mind Companies House as that is who was on all documents).
It was too late to call anyone so I called the court on Wednesday 7th September & asked "What do I do, It hasn't been moved & its given my less than a weeks notice to do something that should have 14 days". The lady there was lovely & said to email in all my information… Which I did & my witness statement. I also sent all documents to Companies House. (I confirmed the court had received all of this by telephone on Thursday).
Wednesday pm, I had a reply from companies house, saying they had forwarded to the relevant person & I should hear from them by Friday (9th).. ( I am still to hear from "the relevant person").
I called the court on Friday 9th to see if there had been any change, had the case been moved, had someone read what was happening;, They said the case was going ahead, The solicitors had requested it be seen & had paid an extra fee to make sure it happened.
So  I have to attend – 13th September – Birmingham!
The Day
I got up at 5am. (I have fibromyalgia & Arthritis & getting up most days is a feat in itself. This day was no exception… 2 strong painkillers, coffee & water later – I am in my car at 6am.
From 6am – 9.10am I am driving – with 2 breaks to stretch my legs & take my morning tablets (Painkillers & other medications – I have 3 lots daily).
I am extremely stressed – Anyone who knows me, knows that if this was someone else's issue, I would be there sorting it out BUT because it Celeb FC & me, Im in a bit of a state 🙁
9.40 I get to the court after a "7 minute" walk on Google takes me 30 minutes.
At 9.50 a young man comes up to me smiling, introducing himself like a long lost friend, saying he is a representative of the solicitors & do I know why I am there – I loudly state – NO – I am aghast I have had to make this journey for something that no one has explained nor offered my a chance to remedy.
10.00am – I enter the court – The mans demeanour changes (SHOCKER)
I wont go into the long drawn out event BUT suffice to say, The JUDGE was amazing!
The Judge read everything I sent, She noted the dates I had been sent things & the swiftness I had got my items to court via email (Despite the solicitor saying it should all be disregarded because I hadn't adhered to the court times).
The Judge also asked if I agreed with the Solicitors statement (a particular part). I had to say I had no idea, as, like 4 letter the solicitors claim to have sent me in July / August, I hadn't ever received their statement nor their documents for todays hearing. When the Judge looked at the dates, despite getting the instruction to send me the paperwork on the 30th August, the solicitor admitted they hadn't sent it until the 9th of September – BY SNAIL MAIL… (* Update I received the solicitors statement on Thursday 15th September).
The Judge also noted what Celeb FC is, how & why it works & what we have done in the last 9 years…
Given everything in front of her, the Judge asked the solicitors to exercise some discretion – SHE LITERALLY ASKED THEM TO TAKE EVERYTHING INTO ACCOUNT. She mentioned The nature of Celeb FC, The fact there is NO money to be had from Celeb Fc, The Fact we are a TRUE non-profit, The fact the late filing was literally less than 60 minutes due to a glitch, The fact that I had at every step contacted the courts / claimants, The fact that I had made the Journey to the Birmingham court despite asking for it to be moved (She asked the Solicitor why it wasn't moved to Croydon, They shrugged – Guess where the solicitors is based).
The Solicitor said – NO
The Judge then said she would like to exercise discretion in this case as she didn't believe it was in anyone's interest to pursue this.
The Solicitor said – NO
And began to explain (bear with me, I am not a legal-ee – Something like its a "Judicial penalty" by government & her powers are not high enough)?
The Judge then did a lot of searching through papers, asked a lot of legal questions about the penalty, about the fairness, the way its levied etc… BUT still the Solicitors said – NO
Overall, The Judge was amazing, she really tried to help, her summing up was so kind an appreciative of what Celeb FC do & of how I was feeling BUT she had to uphold the fine of £150- joined by a standard Court fee of £85 & a cost of £27.
The Solicitor asked for his hourly costs & this amazing Judge quite clearly said " Do you really think I am going to award you that, in this instance"?
So I feel vindicated BUT
And now to the problem
Celeb FC is, as I keep saying a pound for pound non-profit. Hence we have NO money.
We now have this cost, to be paid before the 5th of October or Celeb FC ceases to exist.
I simply cannot have a County Court Judgement against my beautiful baby – So if it cannot be paid – Celeb FC will be dissolved & that means for a full 5 years – it is struck off & not allowed to exist in any form.
No fundraising , No Galas, No Football, No support, No Advice, No supplying hosts, entertainers or presenters for charitable events etc etc.
We have 6 Fundraisers booked for our 10th year – 2023 – THESE will need to be cancelled.
This is absolutely devastating.
SO I am asking for a tiny bit of support to get this sorted…
If you can help – please send what you can – just press this button now